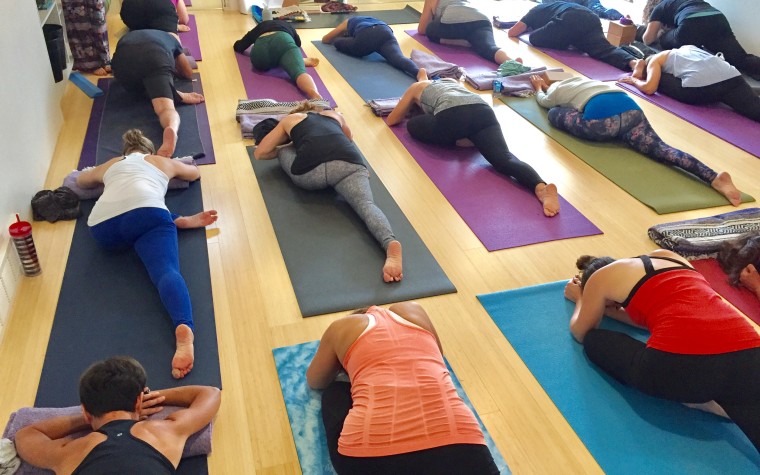 Yin + Yoga Nidra
Sunday April 2 @ 4:40 pm
This 75 minute class combines yin yoga and yoga nidra.  Yin Yoga calms and balances the mind and body, improves circulation, flexibility, and joint mobility, and promotes fascial release. Yoga postures are held for 3-5 minutes using props as needed for comfort and support. After 30 minutes of stretching, yoga nidra will follow.Yoga Nidra produces profound relaxation in the body-muscular, mental, and emotional. During yoga nidra you will lie in a comfortable, propped position and be led through a series of verbal cues and visualizations to bring your mind into a deep state of rest and relaxation.
Add this opportunity to relax and de-stress your mind and body to your schedule! No yoga experience is necessary.
Goodwill Meditation with Caroline Vernon
April 9 @ 1  pm
In this meditation we will explore the ways that we have judged ourselves and others. We will find where these judgments come from and then with intention release ourselves from the need to hang out to our overly critical thinking. We will then open to forgiveness of ourselves and others and ground ourselves in love.
Faithful Yoga with Mary Janssen
April 9 @ 4:30 pm
Restorative Yoga
April 16 @ 4:30 pm
Stress.  Most of us feel it.  Maybe more than we would like.  It typically takes your body 24 hours to metabolize stress.  A Restorative Yoga practice can dramatically reduce the effects of stress on your body and your mind.  In this 75 minute practice, you will be guided into a series of poses in which you are completely supported with bolsters and blankets.  These supported poses allow you to find stillness in both body and mind.  Leave feeling as if you have a new lease on life, completely relaxed and renewed.
Reserve your spot today!
Yoga Study
Teacher Training
If you want to enrich your life, learn something new, deepen your yoga practice or become a yoga teacher then check out Yoga Okoboji's upcoming yoga study. Next trimester begins April 29.
http://www.yogaokoboji.com/class/yoga-study/" target="_blank" style="mso-line-height-rule: exactly;-ms-text-size-adjust: 100%;-webkit-text-size-adjust: 100%;color: #f3700b;font-weight: normal;text-decoration: underline;">Click here for more info.