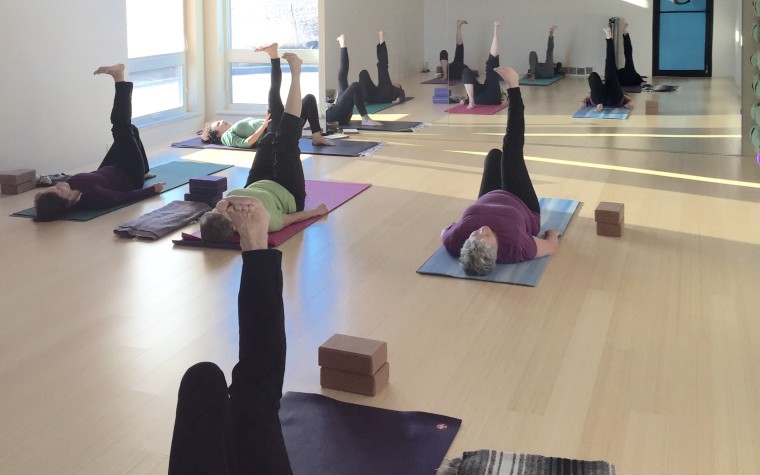 April News
Additional Class Times
Monday @ 10:30 am
Gentle Yoga with Janine
Slow paced, mindful practice that allows moment to moment adjustments, build on flexibility and range of motion.
Sunday @10:30 am
Hot Yoga with Marta
This 90 degree class includes strength, balance and back bending ending with relaxation.
SPECIAL EVENT: Yoga Nidra
Sun. April 10 @ 5:30 pm
Jenn Fast
$15 drop in or punch pass
Join Jenn for this relaxing Yoga Nidra (yogic sleep) class. Jenn will guide you into a mindful, restful, relaxation where you may hover between sleep and consciousness. She will leave you rested and recharged.
Recharge Your Vitality
Yoga Study Focus: Inversions
April 16-17
Yoga study is for anyone who would like to learn more about yoga and themselves. This weekend will focus on inversion and arm balance postures along with Ashtanga Yoga. The weekend will include yoga classes and workshops with various teachers, breath work, chanting, discussion and meditation. This weekend is one of a 9 part series. After completion of the 9 weekends you will receive a certificate that allows you to become a Registered Yoga Teacher (RYT) with the Yoga Alliance if you choose. Completion of the series can take as little as 9 months or as long as you like. For more information or to register contact Janine.
Meditation With Waxela
Sun. April 17 @ 1 pm
Goodwill Donation
Recharge your vitality in a centering meditation with crystal singing bowls. The beginning of the meditation will be a guided journey into relaxation, followed by healing sound and vibrational energy. This sill be a sitting mediation with the opportunity to recline in deep Samadhi if desired.
Restorative Yoga
Sun. April 17 @ 4:30 pm
Jean Mohr
Drop in $15 or Punch Pass
A Restorative Yoga practice can dramatically reduce the effects of stress on your body and your mind. In this 75 minute practice, you will be guided into a series of poses in which you are completely supported with bolsters and blankets. These supported poses allow you to find stillness in both body and mind. Leave feeling completely relaxed and renewed.
Space is limited to 8, please reserve your spot !
Now is a good time to create your log in  for Yoga Okoboji.
Log in for these options:
* Keep track of active passes
* Sign up for multiple classes at once
* See calendar of your reserved classes
* Purchase passes
* See expired passes and class history
* It is easy to do
* Will soon be required for many classes
Please let us know if you have any questions. If you are unable to attend a reserved class please cancel the reservation online, by phone 712-336-9642 or email yogaokoboji@hotmail.com to not be charged.
LOG IN 
Jen Anderson LMT, RYT, KRMT
House of Yogini &
Two Teeny Yoginis
Beginning in April, Jen Anderson LMT, RYT, KRMT, will be offering services and treatments for women through her business,
House of Yogini. Jen will be offering Reiki, mindfulness coaching, Yoga Nidra, massage therapy (including pre and post-natal, infant and child, deep tissue, lymphatic and Gua Sha.)You may message or call her at 701-412-8363 to schedule an appointment, and follow House of Yogini on Facebook and @houseofyogini on Instagram.
Jen will also be offering events through the summer for girls, through her business Two Teeny Yoginis, a business focused on changing the way girls view themselves, one another and their world; through mindfulness, yoga, positive psychology and creativity. Please follow Two Teeny Yoginis on Facebook.