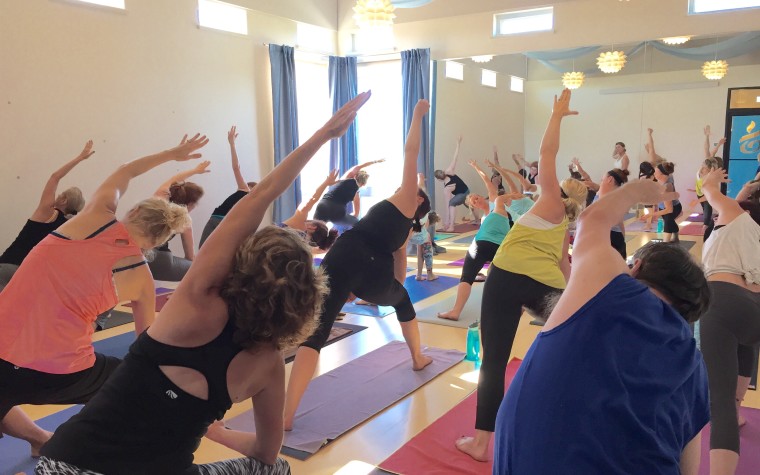 AUGUST
Extra Classes Continue
Through August
Mon 10:30 am Gentle
Tues 10:30 am Gentle
Wed 10:30 am Hot Yoga
Thurs 10:30 am Gentle
FULL CLASS SCHEDULE
Outdoor Yoga Continues!
West Lake Okoboji
Arnolds Park Green Space
Tues & Thurs. @ 7 am
Soak in the beautiful views of West Lake Okoboji while Mindy or Michelle guide you through an invigorating morning yoga practice.
Special price punch cards available
5 classes/$50 Buy Now PAYPAL  receive card at first class. Punch card valid through 8/27
Drop in $12 or use your punch pass.
FREE First Saturday
August 1 @ 1 pm
With Jenn Fast
On the first Saturday of every month Yoga Okoboji is offering a free yoga class. This month Jenn will be offering a FREE yoga class with basic yoga postures that focus on each of the seven chakras. Essential oils will be incorporated that correspond with each chakra. The class will end with a short yoga nidra (yogic sleep).
We invite YOU to enjoy this fun, FREE, yoga experience with Jenn!
NO NEED TO RESERVE YOUR SPOT…JUST SHOW UP!
No matter what level you are, no matter if you are new to yoga or an experienced practitioner, we invite you to share and learn together with us at Yoga Okoboji. Please allow for up to 90 minutes.
Meditation with Waxela
DIFFERENT DAY / TIME
Saturday 8/8 @ 11 am
Goodwill Donation
Join Waxela for one hour of deeply relaxing meditation during which she will offer an individual energy attunement to each class participant.
What is an energy attunement? Essentially it is a download of source energy that may be utilized by each individual in the way that is best for the receiver. More about attunements (https://lightworkerenergies.wordpress.com/2013/02/12/attunement/) .
Class size is limited, please reserve  your spot.
Restorative Yoga & Meditation
Sunday 8/16 @ 4:30-6 pm
Jean Mohr
Drop in$14 or punch pass
A Restorative Yoga practice can dramatically reduce the effects of stress on your body and your mind. In this 75 minute practice, you will be guided into a series of poses in which you are completely supported with bolsters and blankets. These supported poses allow you to find stillness in both body and mind. Leave feeling as if you have a new lease on life, completely relaxed and renewed.
Please register for this class to save your spot. Class size is limited to 8.
Committed Partnerships
Sunday 8/30 @ 1 pm
Brett Morris & Waxela Sananda
$15 Single $25 Couple
This workshop is for ALL. Learning to listen and communicate is an inside job. Singles and couples are encouraged to attend.
Are there male and female "behaviors" in communication? What are the automatic responses YOU experience? How can we celebrate these differences?
Come join Brett and Waxela as they share a fun and transformational hour designed to raise the vibration of your relationships.
You will leave with a deeper understanding of the "intention vs impact" you are having on your relationships.
Contact Brett Morris to attend: brett@momentumconsulting.com
Yoga Study
September 26-27
Yoga study is for anyone who would like to
learn more about yoga and themselves. This is officaially the beginning of the series, however, you can begin in any month. This upcoming weekend will focus on an introduction to yoga and sun salutations. The weekend workshop will include many yoga classes with various teachers, breath work, chanting, discussion and meditation. This weekend is one of a 9 part series. After completion of the 9 weekends you will receive a certificate that allows you to become a Registered Yoga Teacher (RYT) with the Yoga Alliance if you choose. Completion of the series can take as little as 1 year or as long as you like. For more information or to register contact Janine.
Kelli Feather, LMT
Holistic – Therapeutic
Massage & Bodywork
Kelli is now offering massage at Yoga Okoboji.
By Appointment only
712.339.5044