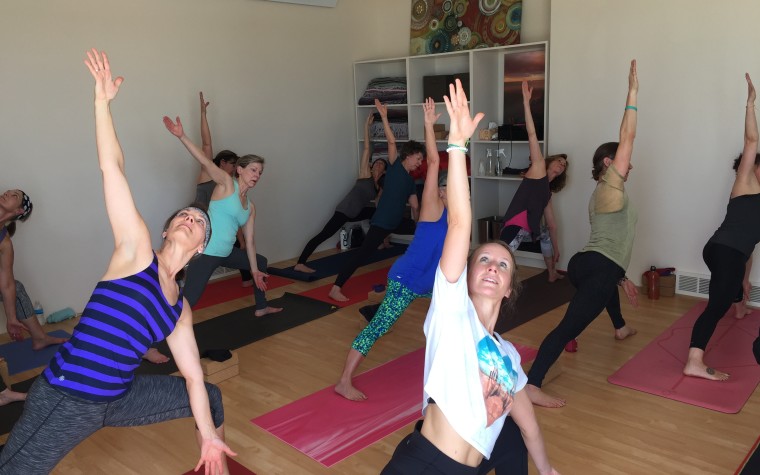 Reserve Your Spot in Class
Things get busy around the lakes during the summer including at Yoga Okoboji!  Be sure to save your mat spot in class so you can chill out, stretch out and breathe, breathe, breathe.
Friday 9 am Power has changed to Warm Vinyasa
This is a flowing all level yoga class in an 85 degree room ending with relaxation. 60 minutes.  Essential Poses with Sue also offered on Friday @ 9 am.
We have new classes on the schedule!
New class offerings this month are:
Monday 10:30 am Gentle Yoga with Jenn
Tuesday 7 am Outdoor Yoga with Mindy
Tuesday 9 am Gentle Yoga with Sue
Wednesday 9 am Gentle Yoga with Marta
Thursday 7 am Outdoor Yoga with Michelle
Thursday 10:30 am Essential Poses with Marta
Saturday 7:30 am Hot 25 with Mindy
Yin + Yoga Nidra
Sunday June 4 @ 5:30 pm

Note the time change!
This 75 minute class combines yin yoga and yoga nidra.  Yin Yoga calms and balances the mind and body, improves circulation, flexibility, and joint mobility, and promotes fascial release. Yoga postures are held for 3-5 minutes using props as needed for comfort and support. After 30 minutes of stretching, yoga nidra will follow.Yoga Nidra produces profound relaxation in the body-muscular, mental, and emotional. During yoga nidra you will lie in a comfortable, propped position and be led through a series of verbal cues and visualizations to bring your mind into a deep state of rest and relaxation.
Add this opportunity to relax and de-stress your mind and body to your schedule! No yoga experience is necessary.
Goodwill Meditation with Caroline Vernon
Sunday June 11 @ 1 pm
In this meditation we will explore the ways that we have judged ourselves and others. We will find where these judgments come from and then with intention release ourselves from the need to hang out to our overly critical thinking. We will then open to forgiveness of ourselves and others and ground ourselves in love.
Guest Instructor Jordi Doughty from Des Moines
Wednesday June 21 @ 9 am
Fluid Movement Yoga, All Levels Class 60 Minutes
Please reserve your spot online!
Jordi is a yoga & movement artist based out of Des Moines, Iowa who specializes in fluid, juicy movement that is synchronized to breath and music.  She instructs around the idea that movement, evolution, progress and effort are all constant.  No pose will be stagnant.  This class is for all-levels where you will learn how to sink into soft and patient stretches while learning how to take that into your stronger more challenging poses.
Laughter Yoga with Jodi Hart
Goodwill Donation
Friday June 30 @ 1:30 pm
This goodwill donation class has the goal of getting together to share laughter "the best medicine", as exercise and as a healthy way to relieve stress.  We have a great time and everyone can do it!
Waxela Brings Lucia Light to
Yoga Okoboji
June 30-July 18
The Lucia Hypnagogic Light offers a meditative journey into the healing theta brain state while engaging the pineal gland to secrete DMT, causing a beautiful journey into light, color and deep relaxation. Reported benefits are extensive including enhanced intuition, improved memory, relief from anxiety, better sleep, lucid dreaming, and expanded consciousness. The Lucia Light also causes endorphins to be released which can lead to a joyful, euphoric sensation.
More information on our website!
For reservations or more information call or text Waxela at 512-585-9265 or email waxela22@yahoo.com
Meditations with Waxela
July 2 @ 11 am
July 6 @ 6:30 PM
July 11 @ 10:30 am
Guided meditations with Waxela $15 each
Reserve Online
These meditations are designed to support your spiritual growth and connection to source by holding sacred space and guiding you into the field of infinite possibility where you can experience your powerful ability to create anything you desire in your life.
Recommended reading (not required to attend meditations):The Untethered Soul and The Surrender Experiment by Michael Singer; Outrageous Openness and Change Me Prayers by Tosha Silver
Coming July 16th 1 pm – 3 pm  $40
Tickets must be purchased in advance through the link below.
Soul Painting is a guided creative experience. In this class you will be instructed on how to create your own unique image using the soul painting technique. It is a chance to tune in to the inner artist that you are and see what your soul is calling you to see right now. All materials will be provided, no artistic experience is needed. All you need is the desire to connect and create.
Sun Moon Yoga Teachers Retreat in Okoboji
October 6-8
This all-inclusive yoga teacher retreat runs Friday eve through Sunday afternoon in Okoboji, Iowa. Yoga Teachers get ready to recharge and dig deeper into your own yoga practice. You'll leave feeling nurtured, refreshed, and inspired.
Cost: $560 (includes meals, workshops, and lodging) until August 1
,
Goes up to $600 after August 1!
Accomodations and Vegetarian/Vegan meals: The Oakwood Inn,
Yoga Classes: Yoga Okoboji
Register by emailing Mona Ceniceros,
Sun Moon Teacher Training Programs Director:
sunmoon@hickorytech.net