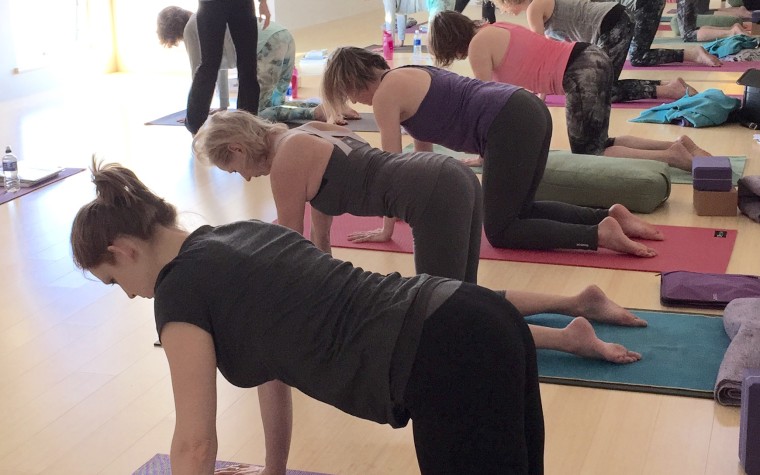 April Classes
NEW Classes and Times in April
Monday 7 pm Meditation with Waxela
Tuesday 5:30 PM Power Flow
Wednesday 3 pm CHAIR yoga
Wednesday 5:30 PM Gentle Flow
Thursday 7 PM Yoga for Daily Living Series
Cancelled Classes
Monday 9:30 am Hot
Thursday 9:30 am Hot
Looking for 10 people to join a HOT YOGA CHALLENGE!
April 13-17 @ 6am $45
Are you ready to kick start weight loss and gain flexibility? Want to feel the benefits and see results fast? We invite you to a
5 day HOT YOGA CHALLENGE! 90 degree Hot yoga class with Janine 5 days in a row at 6 am for 45 minutes. Anyone can join this challenge, even if you have never practiced yoga or hot yoga! We challenge you to put HOT YOGA to the test to see and feel results in just 5 days!
Who is up for the challenge???
Must register:
text Janine 712-330-5593
FREE Class Saturday 4/4 @1 pm
Jean Mohr is offering a FREE Meditation class Saturday, April 4 at 1 pm. Have you ever tried to meditate, but can't get past thinking about your foot falling asleep or the the thoughts running through your head? We invite you to get to know Jean as she shares some tips that she learned along her journey to incorporate meditation as part of her daily practice. Learn and practice a variety of approaches and strategies to get you on your way to a new and more calm you.
Yoga for Daily Living
April 9, 16, 23, 30 @ 7 pm
Join Janine Gustafson for this special class series in April to get grounded, gain inner strength, cultivate abundance and calm your mind. Move your yoga practice off the mat and into your daily living. This class is appropriate for any level. Classes will include asana, discussion and journaling. Registration is kindly requested.
4/9 Yoga to Get Grounded 7-9 pm
4/16 Yoga to Increase Inner Strength 7-9 pm
4/23 Yoga to Cultivate Abundance 7-9 pm
4/30 Yoga to Calm the Mind 7-9 pm
Each class is useful on its own, however, will be most beneficial as a practice of progression. Please Register on our Special Events page or by phone 712-336-9642 or email . $30 each or 30% discount rate $92 for all four.
Meditation, Mindfulness, Manifestation
April 6, 13, 20, 27
Cost: $85 (with optional 30 minute private coaching session with Waxela- at a special rate for class participants)
RSVP to reserve your space: waxela22@yahoo.com – text or call 512-585-9265
You have the power to create your life! This workshop will teach you techniques for creating and living a life you love. You will learn how to quiet and control your thoughts with meditation. You will learn to focus your mind on an intention through mindfulness training. And you will learn to manifest your desired outcomes by combining clarity of focus with your passion and joy. We will also discuss and practice techniques for raising your frequency in order to manage your life from a higher, more centered perspective. Upon completion of this workshop you will have all of the tools and techniques you need to begin manifesting the life of your dreams.
Meditation with Waxela
Sunday 4/26 @ 1 pm
Goodwill Donation
Meditation and Tools for Staying Centered when Life Throws You a Curve Ball
You may be on a path of personal growth and spirituality, you may do yoga and meditate daily, and most of the time you do a good job of keeping it together. But what about those times when life throws a big road block in your path? Do you get knocked out of center? Unbalanced? Do you let the chaos get to you? Do other people upset your inner peace? If you get shaken up by the curve balls life throws your way, that just means you are human and you could benefit from learning some centering tools. Waxela will guide you back to inner peace in this meditation, while offering you some take-home tools for staying balanced to use in your regular, everyday life.
Please register save your spot, class size is limited!
Restorative Yoga
Sunday 4/19 @ 4:30 pm
Stress. Most of us feel it. Maybe more than we would like. It typically takes your body 24 hours to metabolize stress. A Restorative Yoga practice can dramatically reduce the effects of stress on your body and your mind. In this 75 minute practice, you will be guided into a series of poses in which you are completely supported with bolsters and blankets. These supported poses allow you to find stillness in both body and mind. Leave feeling as if you have a new lease on life, completely renewed.
Please register to save your spot, class size is limited to 6.
Yoga Study Weekend
April 25-26
Sat. 8 am-9 pm/Sun 8 am-5 pm
Yoga study is for anyone who would like to learn more about yoga and themselves. This weekend will focus on inversions and arm balances. The weekend workshop will include many yoga classes, posture discussion, breath work, chanting, discussion and meditation. This weekend is one of a 9 part series. After completion of the 9 weekends you will receive a certificate that allows you to become a Registered Yoga Teacher (RYT) with the Yoga Alliance if you choose. Completion of the series can take as little as 1 year or as long as you like. For more information or to register contact Janine
Native American Drumming
Avis Davis
Sun. 4/19 @ 1:30 pm
FREE EVENT
All are welcome to participate or to listen to the rhythm of the drums!
Thank you for your continued support, we hope to see you in class soon!