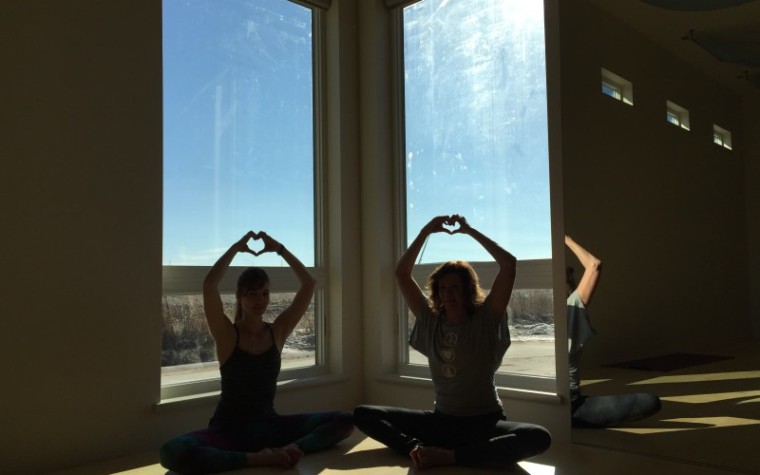 New Studio 1 Year Anniversary
February marks one year in our new studio and Yoga Okoboji is entering its 12th year serving the Iowa great lakes yoga community!
Yoga Okoboji began in 2004 with one room, a few classes a week and 2 teachers. Soon we expanded to two rooms (a lounge and a studio) and three teachers. Eventually we had opportunity to move up to a larger second floor, vaulted ceilings, waiting area, shower, one big studio and 6 teachers. Last year, we were blessed to build a permanent space specifically for yoga and you! For our community, we created a space with natural light, earth friendly materials, heated floors, an air exchange system, a designated hot room heated by healthy ceramic infrared heaters and everything is powered by the sun! Yoga Okoboji now has 7 Registered Yoga Teachers (RYT) with over 50 years of combined teaching experience! We are a Yoga Alliance Registered Yoga School that has helped many amazing people become yoga teachers and open their own studios. We are humbled and grateful for the many yogis we have had the pleasure of serving. We love yoga! Thank you for giving us the opportunity to
practice, learn and grow with you!
Schedule Change
Tues 9 am Hot Power Yoga – Mindy
95 degree challenging power yoga class
February Anniversary
FREE CLASSES
Feb 5 Power @ 9 am
Feb 6 Hot Power @ 9 am
Feb 6 Basics @ 9:30 am
Feb 7 Gentle @ 9 am
We have enjoyed 1 year in our new studio! To celebrate we are offering you FREE CLASSES during the 1st weekend in February! This our THANK YOU for learning, practicing and growing with us at Yoga Okoboji! Please bring your friends, family and neighbors, everyone is welcome (14 years old and up). We invite you to come practice with the lakes area most experienced, knowledgeable and dedicated registered yoga instructors!
We encourage you to Reserve your spot now!
Correcting Core Dysfunction with Yoga
Sat. Feb. 20 @ 1 pm
Jen Anderson
Drop in $15 or punch card
Core weakness and dysfunction are problematic and common issues. Many women experience low back pain, achy hips, reduced mobility and flexibility, abdominal diastasis, "pooch" and/or weakness. Men develop "diastasis recti" or abdominal separation, as often evidenced by a rounded abdomen. In this workshop, Jen will address self-tests for these conditions, exercises to avoid when they are present, and the ways yoga can help correct and rehabilitate the core. 60 minutes.
Reserve your spot now!
Meditation With Waxela
Sun. Feb. 21 @ 1 pm
Goodwill Donation
Join Waxela on a meditative journey into the blissful realms of Spirit, where you will sink deeply into relaxation. In this deeply relaxed state you will commune with your loving guides and possibly receive a message of personal guidance from the world of energy.
Reserve your spot now!
Thai Massage Workshop
Sat. Feb 20 @ 3-5 PM
Jo Jensen $30 per person
In this partner workshop, you will learn to perform a short routine of Thai Massage that you can share with another. Discover how to listen deeply with your hands and heart and care for each other with hands-on bodywork. You will also learn to express loving-kindness with a skillful touch.
Limited space available, please reserve your space. 

Jo Jensen has been offering Thai Massage for more than 10 years out of her home in Armstrong, Iowa
The Healing Mat 712-260-7225 jojensen@iowatelecom.net
Heart Opening Gentle Yoga
Sun. Feb 14 @ 9 am
Marta Barnard
Gentle heart opening postures will be a part of this Valentine's Day practice that will end with a Love Meditation.