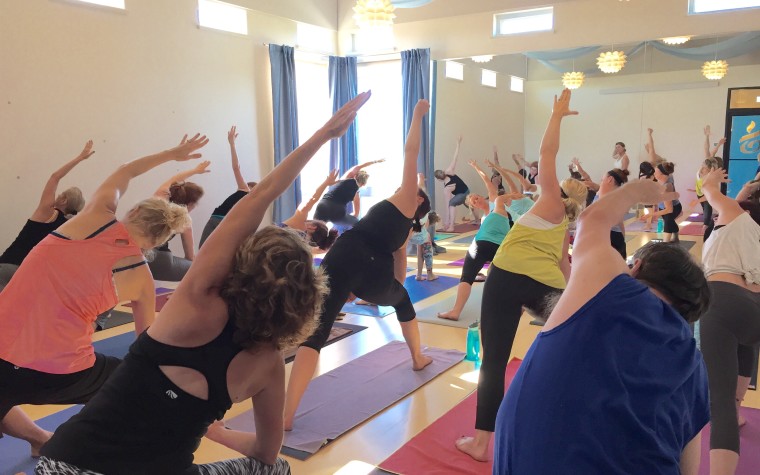 Happy New Year!
Special Yoga Class Package
SALE in January
12 Classes $100
Stock up on your classes and purchase for family and friends!! You can share your classes AND they never expire!
Purchase on line or over the phone.
We have a class for every need and every body
Perfect classes to ease into a yoga practice:
Gentle Yoga – Sun, Mon, Wed & Thurs
Basics – Mon, Wed, Thurs & Sat
Great classes to unwind and relax:
Warm Stretch – Tues
Restorative – 3rd Sun each month
Great classes to challenge yourself:
Ashtanga – Tues
Power – Fri
Hot Power – Sat
How often should you practice? …Only on the days you want to feel good!
Something NEW for the New Year
January 10-16
Hip Focus in All Classes
Daily yoga practice adds up to noticeable benefits. During January 10-16 every class and instructor will include hip focused movements and postures for strength and/or flexibility. Why the hips? In yoga the hips are often thought of as the "closet" where we shove all our unwanted emotions, feelings and stress. Over time all this stuff tends to tighten up our muscles and joints and sometimes even creates pain. When the body holds onto this stuff we feel less than great and can't put a finger on why. The beginning of the year is a perfect time to move all conscious and unconscious baggage out of our bodies to free up our movements and lives. Opening the hips will give you more space physically and energetically to give more AND receive more. All the instructors at Yoga Okoboji invite you to their classes this week to create noticeable and lasting positive change in your body and your life.
Yoga Study
Jan 16-17
Yoga study is for anyone who would like to learn more about yoga and themselves. This weekend will focus on hip opening postures. The weekend will include many yoga classes and workshops with various teachers, breath work, chanting, discussion and meditation. This weekend is one of a 9 part series. After completion of the 9 weekends you will receive a certificate that allows you to become a Registered Yoga Teacher (RYT) with the Yoga Alliance if you choose. Completion of the series can take as little as 9 months or as long as you like. For more information or to register contact Janine