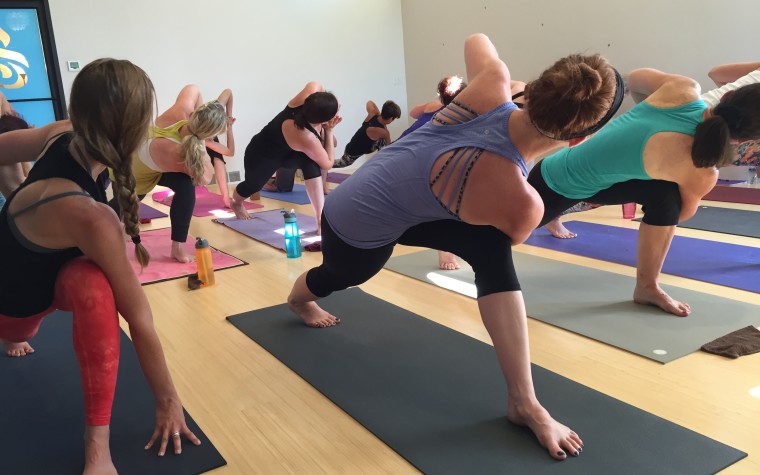 New Year's Day
Gentle Yoga 9 am
Marta

Join Marta and set the tone of your 2017 by nurturing your body, mind and soul.

New Year's Day
Yin + Yoga Nidra @ 4:30 pm
Jenn Fast

Yin Yoga calms and balances the mind and body, improves circulation, flexibility, and joint mobility, and promotes fascial release. Yoga postures are held for 3-5 minutes using props as needed for comfort and support. After 30 minutes of stretching, yoga nidra will follow.

Yoga Nidra produces profound relaxation in the body-muscular, mental, and emotional. During yoga nidra you will lie in a comfortable, propped position and be led through a series of verbal cues and visualizations to bring your mind into a deep state of rest and relaxation.

NEW Monthly Meditation
Sun. 1/8 @ 1 pm
Freewill Donation Meditation
Caroline Vernon

In this meditation we will explore the ways that we have judged ourselves and others. We will find where these judgments come from and then with intention release ourselves from the need to hang out to our overly critical thinking. We will then open to forgiveness of ourselves and others and ground ourselves in love.

About Caroline: I studied various types of meditations including Centering Prayer, Vipassana, Pranayama, Tonglen, Shamatha, and guided visualization.  I earned a Masters in Contemplative Counseling Psychology in Boulder, Colorado.

Caroline was certified to teach yoga in Sedona, Arizona through 7 Centers Yoga Arts. For a month she was immersed in a yogic lifestyle and had never felt better – physically, emotionally, and spiritually. It was a time of incredible growth for her.

From a place of gratitude for having been able to learn and practice meditation and yoga, Caroline offers classes intended to heal us from the inside out.

Sun. 1/8 @ 4:30 pm
Faithful Yoga
Mary Jansen, RYT

Christian Yoga Class
"For where there are two or three gathered in my name, I am among them." (Matthew 18:20) Join us to invite Christ into our practice. We will pray and praise God with each movement and breath.

In addition to teaching group fitness classes, Mary works as a health coach in her business http://www.odysseyhealthcoach.com/about/

Sun. 1/15 @ 4:30-5:45pm
Restorative Yoga
Jean Mohr

In this 75 minute practice, you will be guided into a series of poses in which you are completely supported with bolsters and blankets.  These supported poses allow you to find stillness in both body and mind.
No yoga experience necessary.
Please register for this class to save your spot. Class size is limited to 8.

SALE! $99/11 Class Pack
January 1-31

Online or in studio, buy your pass or give the gift of yoga.

Sat & Sun 1/14-15
Yoga Study
Consciousness Rising
Sat 8 am-8pm/Sun 8 am-4 pm

Yoga study is for anyone who would like to learn more about yoga and themselves. This weekend will focus on yoga asana using the hips and and being conscious of physical, mental and emotional sensations that arise. The weekend will include many yoga classes and workshops with various teachers, breath work, chanting, discussion and meditation. This weekend is one of a 9 part series. After completion of the 9 weekends you will receive a certificate that allows you to become a Registered Yoga Teacher (RYT) with the Yoga Alliance if you choose. Completion of the series can take as little as 9 months or as long as you like. For more information or to register contact Janine.

Sun 1/15 @ 1pm
Goodwill Meditation
Jenn Fast

This meditation will include a short explanation of the sacral chakra, or energy center, breath, mantra, mudra, and guided meditation will be used to cleanse and purify the sacral chakra

NEW Class Time with Coral
Vinyasa Tues @ 7 pm

This class is offered on Tues. (Coral) & Thurs. (Mindy) evenings by candlelight.