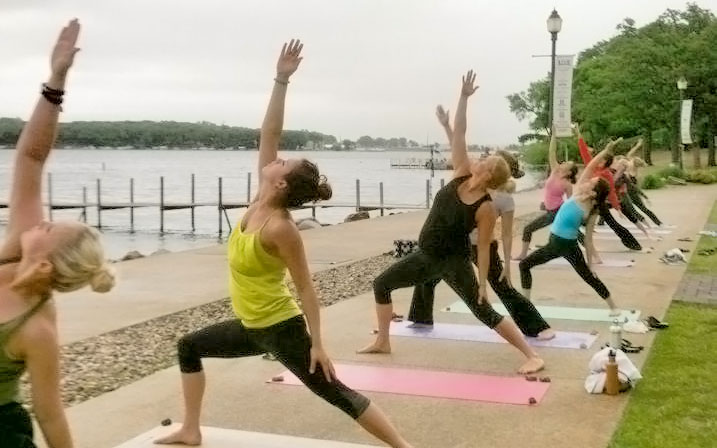 June Yoga News
NEW Classes and Times in June
Mon 10:30 am Gentle – Jenn
Tues 6 am Hot – Jenn
Tues 7 am Outdoor Yoga – Mindy
Tues 10:30 am Gentle – Jean
Thurs 6 am MEN Only Hot – Mindy
Thurs 7 am Outdoor Yoga – Michelle
Thurs 10:30 am Gentle – Marta
Cancelled Classes
Mon 6 PM Warm Stretch
Tues 6:45 PM Hot
As the lakes area summer season comes upon us, we encourage you to go to our reservation page  (and bookmark it) so you can be assured to have a place in class. At the completion of the reservation you will receive an email with a link to cancel your spot up to an hour before class. To cancel your reservation, click the link in the confirmation email. You will be redirected to our reservation page. Click the cancel reservation button. You will know your reservation was canceled when the page says "We are sorry you cannot make it to class" If you are not sure or unable to cancel, give us a call at 712-336-9642.
Outdoor Yoga
West Lake Okoboji
Arnolds Park Green Space
Tues & Thurs @ 7 am
June, July and August – Soak in the beautiful views of West Lake Okoboji while Mindy and Michelle guide you through an invigorating morning yoga practice.
During July enjoy outdoor class on Saturday as well!
Special price punch cards available
5 classes/$50 Buy Now PAYPAL  receive card at first class. Punch card valid through 8/27
Drop in $12 or use your punch pass.
FREE Class Saturday 6/6 @ 1 pm
Marta Barnard will be offering a FREE laughter & yoga class.
Laughter and yoga have much in common: they reduce stress, support the immune system, promote relaxation, exercise the diaphragm and abdominal muscles, help control blood pressure, increase lung capacity and detoxify the body. And they are both FUN! Marta will combine laughter and yoga with a movement meditation. The workshop will include asana (yoga postures) and pranayama (breathing exercises). Participants will need to be able to get up and down off the floor. Class size is limited to 10. Please reserve your spot .
We invite you to get to know Marta and what she offers at Yoga Okoboji at this FREE event.
Committed Partnership
Sunday June 7 @ 1 pm
Brett Morris & Waxela Sananda
$15 individual $25 couple
COMMITTED PARTNERSHIP Series
TAKE CONTROL of your communication!
Come join Brett Morris and Waxela Sananda for a fun and easy exercise that will ENERGIZE your communication with your partner.
In one hour you will learn and practice a listening technique that brings communion and partnership to every conversation you have. We will go through a demonstration of LISTENING FOR. This will reveal where the real power is in every interaction.
Space is limited, so reserve your spot now!
This is the first of a 3-part series on COMMITTED PARTNERSHIP. It is also an opportunity to find out more about the upcoming Couples Retreat this Fall in the Okoboji area.
To reserve your spot and for more information:
Call Brett 512.468.4725
email: brett@momentumconsulting.com
Meditation with Waxela
Sunday 6/14 @1 pm
Goodwill Donation
Cultivating inner peace and self-love.
"The peace that passes understanding" begins with complete acceptance of yourself just as you are, along with acceptance of the world and all that it is. For one hour we will create a space of self-love and an experience of peace, harmony, and divine order. This experience of self-love and peace will calm your stress, balance your energy, and raise your frequency.
Class size is limited, please reserve your spot.
Yoga Study Weekend
June 13-14
Sat. 8 am-9 pm/Sun 8 am-4 pm
Yoga study is for anyone who would like to learn more about yoga and themselves. This weekend will focus on inversions and arm balances. The weekend workshop will include many yoga classes with various teachers, breath work, chanting, discussion and meditation. This weekend is one of a 9 part series. After completion of the 9 weekends you will receive a certificate that allows you to become a Registered Yoga Teacher (RYT) with the Yoga Alliance if you choose. Completion of the series can take as little as 1 year or as long as you like. For more information or to register contact Janine.
Restorative Yoga
Sunday 6/21 @ 4:30 pm
A Restorative Yoga practice can dramatically reduce the effects of stress on your body and your mind. In this 75 minute practice, you will be guided into a series of poses in which you are completely supported with bolsters and blankets and blocks. These supported poses allow you to find stillness in both body and mind. You will leave feeling as if you have a new lease on life and completely renewed for your week ahead.
Please reserve your spot, class size is limited to 7.
Tina Bock July 16 & 17
2 hour workshops
Tina Bock is a registered yoga instructor, born and raised in New Jersey. She has taught and studied yoga in the US, Canada, Middle East, and India. She is currently living in Abu Dhabi, United Arab Emirates, teaching classes and workshops there and in Dubai. Tina is the co-founder of Bodhi Yoga Academy, an international teacher training program.
Register for both at a special price $80 – Register Now Both
Thurs. July 16 @ 7-9 pm $45 Register Now Thurs.
This Ashtanga workshop is suitable for all levels. It will include challenging postures, back bending, arm balancing and inversions, while giving modifications for all. Only 5 spots left!
Fri. July 17 @ 9-11 am $45 Register Now Fri.
Scared about the thought of going upside down or balancing on your hands. Join Tina in this workshop designed to make flight fun and accessible for everyone! Only 6 spots left!
For more info text Mindy 712.898.1426 or Email yogaokoboji@hotmail.com
Meet New Instructor Jenn Fast!
I came to yoga because of my love of movement and my desire to learn something new. I completed my teacher training at Sun Moon Yoga in 2012 and have been teaching since. Although I came to yoga because of the physical practice, I fell in love with all of the other aspects of yoga. It has truly been a life-changing practice, one for which I am very grateful.
I have a background in fitness, and have been teaching group exercise classes since 2001. I currently enjoy teaching Zumba and strength training classes, in addition to yoga classes. Teaching is in my heart and soul, and I've spent 18 years as a public school educator, with 14 years in my current position as a third grade teacher. I am very interested in holistic health, and am currently training in Thai Yoga bodywork. I am also a Level I Holistic Aromatherapist and am pursuing a professional level holistic aromatherapy certification. I look forward to sharing my love of yoga with the Yoga Okoboji community!
Come meet Jenn and experience her classes! Jenn is teaching Monday 10:30 am Gentle Yoga, Tuesday 6 am Hot Yoga and Tuesday 9 am Hot Power Yoga. In July she will be teaching Friday 10:30 Basics and Saturday 7 am Outdoor Yoga as well.
Kelli Feather, LMT
Holistic – Therapeutic
Massage & Bodywork
Kelli is now offering massage at Yoga Okoboji.
Certified Birth Doula
Reiki & Intuitive Healing
AMTA, NCTMB, AMBA
By Appointment only
712.339.5044