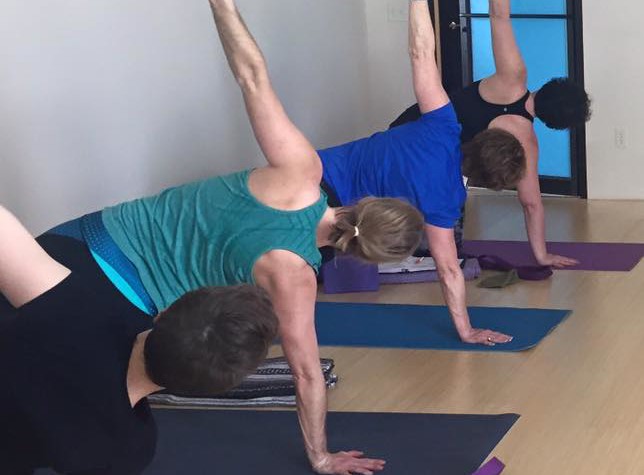 New Class on Fridays
Essential Poses with Sue @ 9 am
Now Friday morning will have 2 classes to choose from!
Join Mindy for Power or Sue for Essential Poses @ 9 am.
We Changed The Name:
Yoga Basics is now Essential Poses 
Essential Poses is a class that practices foundational yoga poses, alignment, the use of props and breathing techniques.  Essential poses is beneficial for all levels of practice from beginner to advanced.  We invite you to practice the Essential Poses with us!
Yin + Yoga Nidra
Sunday May 7 @ 4:30 pm
This 75 minute class combines yin yoga and yoga nidra.  Yin Yoga calms and balances the mind and body, improves circulation, flexibility, and joint mobility, and promotes fascial release. Yoga postures are held for 3-5 minutes using props as needed for comfort and support. After 30 minutes of stretching, yoga nidra will follow.Yoga Nidra produces profound relaxation in the body-muscular, mental, and emotional. During yoga nidra you will lie in a comfortable, propped position and be led through a series of verbal cues and visualizations to bring your mind into a deep state of rest and relaxation.
Add this opportunity to relax and de-stress your mind and body to your schedule! No yoga experience is necessary.
Goodwill Meditation with Caroline Vernon
Sunday May 14 @ 1 pm
In this meditation we will explore the ways that we have judged ourselves and others. We will find where these judgments come from and then with intention release ourselves from the need to hang out to our overly critical thinking. We will then open to forgiveness of ourselves and others and ground ourselves in love.
We are excited to host Iowa based instructor Jordi Doughty
Saturday, May 20 @ 10:30 am – 12:30 pm
Please reserve your spot

online

!
Jordi is a yoga & movement artist based out of Des Moines, Iowa who specializes in fluid, juicy movement that is synchronized to breath and music.  She instructs around the idea that movement, evolution, progress and effort are all constant.  No pose will be stagnant.  This class is for all-levels where you will learn how to sink into soft and patient stretches while learning how to take that into your stronger more challenging poses.
Restorative Yoga
May 21 @ 4:30 pm
Stress.  Most of us feel it.  Maybe more than we would like.  It typically takes your body 24 hours to metabolize stress.  A Restorative Yoga practice can dramatically reduce the effects of stress on your body and your mind.  In this 75 minute practice, you will be guided into a series of poses in which you are completely supported with bolsters and blankets.  These supported poses allow you to find stillness in both body and mind.  Leave feeling as if you have a new lease on life, completely relaxed and renewed.
Reserve your spot today!
Sun Moon Yoga Teachers Retreat in Okoboji
October 6-8
This all-inclusive yoga teacher retreat runs Friday eve through Sunday afternoon in Okoboji, Iowa. Yoga Teachers get ready to recharge and dig deeper into your own yoga practice. You'll leave feeling nurtured, refreshed, and inspired.
Cost: $560 (includes meals, workshops, and lodging) until August 1
,
Goes up to $600 after August 1!
Accomodations and Vegetarian/Vegan meals: The Oakwood Inn,
Yoga Classes: Yoga Okoboji
Register by emailing Mona Ceniceros,
Sun Moon Teacher Training Programs Director:
sunmoon@hickorytech.net