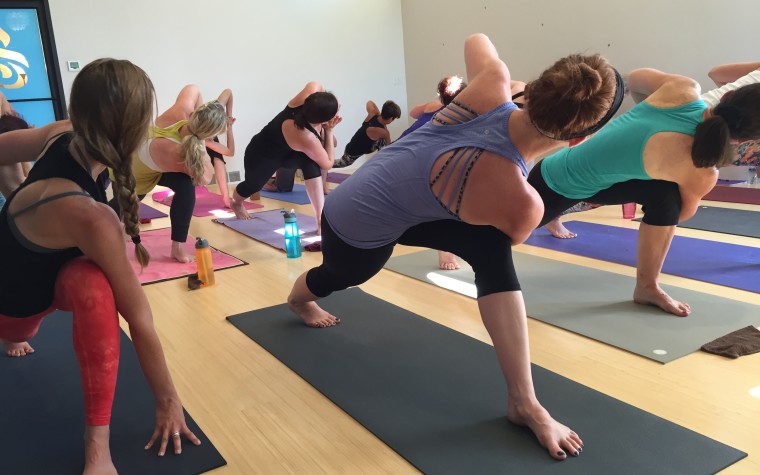 November at Yoga Okoboji
New Class This Month!
Monday @ 7 PM Hot Yoga with Marta
Basic yoga postures in 90 degree heat. Our infrared ceramic heaters are good for pain relief, increased flexibility and may aid in weight loss.
Tuesdays in November
9 am Ashtanga Yoga
Janine
Ashtanga yoga is the the traditional foundation of all vinyasa, power or flow yoga. Ashtanga is a series of postures linked with a vinyasa intended to encourage wellness in body and mind. During this series you will practice sun salutations, standing, seated and inverted postures of the Ashtanga Primary Series along with the traditional opening and closing chants.
Sat. Nov. 7 @ 1 pm
FREE First Saturday
Janine
Join Janine for this fun, mindful, exploratory, FREE yoga session ending with relaxation. No yoga experience necessary. Janine will guide you through the postures and towards your own depth. All levels welcome!
Sat. & Sun.
November 14-15
Yoga Study
Yoga study is for anyone who would like to learn more about yoga and themselves. This upcoming weekend will focus on balancing postures. The weekend event will include many yoga classes and workshops, breath work, chanting, discussion and meditation. This weekend is one of a 9 part series. After completion of the 9 weekends you will receive a certificate that allows you to become a Registered Yoga Teacher (RYT) with the Yoga Alliance if you choose. Completion of the series can take as little as 1 year or as long as you like. For more information or to register contact Janine.
Aromatherapy Yoga
Sat. Nov 14 @ 1 pm-2:30 pm
Jenn F.
$14 or punch pass
This slow flow class will begin with basic information about essential oils and how they work on physical, emotional, and energetic levels. The class will incorporate inhalation and topical application of essential oils to deepen the practice and bring the mind into even greater awareness of the oils and their effect on the body. We will conclude with a short yoga nidra and savasana.
Sun. Nov. 15 @ 1pm
Gratitude Meditation
Waxela
Goodwill Donation
Join Waxela for a meditation on cultivating gratitude in the month of Thanksgiving.
Grateful people report higher levels of positive emotions, life satisfaction, vitality, optimism and lower levels of depression and stress. It is not happiness that makes us grateful, but gratefulness that makes us happy.
Longevity Workshop
Sun. Nov. 15 @ 2 pm-4 pm
Jen A.
$14 or punch pass
Join Jen Anderson, RYT, KRMT, and Health and Wellness Coach for this discussion on increasing your longevity potential, core vitality and immunity. Learn practices and nutritional strategies to help balance the body, combat inflammation and battle the signs of aging. Jen will share simple, natural wellness rituals that you can easily incorporate into your daily life to support rejuvenation, as well as discuss the bigger picture of creating radiant health.
Sun. Nov. 22 @ 4 pm
Family Yoga
Jen A.
Join Jen for this family friendly version of yoga and mindfulness! All ages and stages are welcome to attend! 45 minutes. $14 Drop in or use your punch card. Price is per family.
Reserve your spot now!
Thanksgiving Day Class
Nov. 26 @ 9 am
Gentle Yoga
Marta
Reserve your spot now!
New Options on Punch Pass
You may notice some extra buttons at the top of our reservations page. You can now Create an Account to your view your ALL of your Punch Pass information. This includes how many classes you have left on your pass, your future reservations, and all the classes you have attended in the past. Another bonus with creating your own account is when you sign in you can sign up for more than one class at a time.
Purchase a Pass allows you to buy 12, 6 or 1 class with your credit/debit card.
The other buttons at the top allow you to view the schedule in calendar or list form. Let us know if you have any questions!