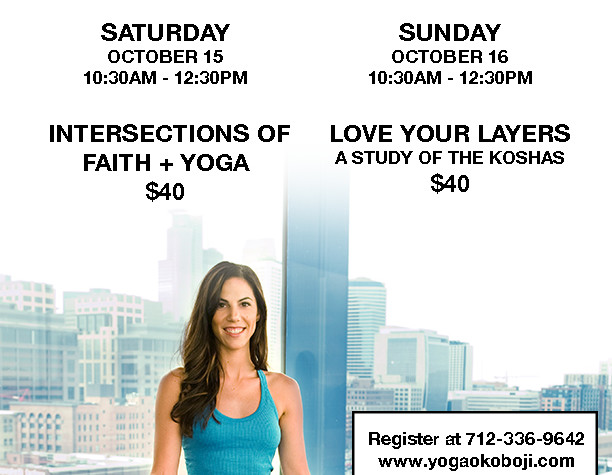 October at Yoga Okoboji
October 15-16
Special Guest Instructor
Nikki Peters, E-RYT
Intersections of Faith & Yoga – $40
Sat. Oct 15 @ 10:30-12:30
How does this spiritual practice ground you in your expression of faith? This workshop will explore the history of yoga and the intersection of yoga and Christian faith. For Christians and non-Christians who need answers, this is your workshop.
Layers of Life – Koshas – $40
Sun. Oct 16 @ 10:30-12:30
Your layers are beautiful if you take the time to look! Through the study of the Koshas we will uncover the layers of the self in a effort to live a more powerful life from the inside out. Open to teachers and students – this 2 hour workshop may save you years of counseling.
Nikki Peters is a fitness business leader with more than a decade of experience managing studios and helping to build the world's largest yoga brand. (CorePower)
Nikki brings an entrepreneurial approach with extensive experience leading service based initiatives across heath focused industries. In 2013 she Founded Studio925 Yoga to bring yoga to the workplace and wellness coaching for Fortune 500 companies.
She is the creator/owner of the online presence of Christian Yoga International and Exercising Faith.
Sun. 10/2 @ 4:30 pm
Yin + Yoga Nidra
Jenn Fast
$15 drop in or punch pass
This 75 minute class combines yin yoga and yoga nidra.
Yin Yoga calms and balances the mind and body, improves circulation, flexibility, and joint mobility, and promotes fascial release. Yoga postures are held for 3-5 minutes using props as needed for comfort and support. After 30 minutes of stretching, yoga nidra will follow.
Yoga Nidra produces profound relaxation in the body-muscular, mental, and emotional. During yoga nidra you will lie in a comfortable, propped position and be led through a series of verbal cues and visualizations to bring your mind into a deep state of rest and relaxation.
No yoga experience is necessary.
A Restorative Yoga practice can dramatically reduce the effects of stress on your body and your mind. In this 75 minute practice, you will be guided into a series of poses in which you are completely supported with bolsters and blankets.  These supported poses allow you to find stillness in both body and mind.  Leave feeling as if you have a new lease on life, completely relaxed and renewed.
Please register for this class to save your spot. Class size is limited to 8.
October 15-16
Growing Roots – Yoga Study
Yoga Study
Yoga study is for anyone who would like to learn more about yoga and themselves. This upcoming weekend will focus on standing postures.  The weekend workshop will include yoga classes, breath work, chanting, discussion and meditation.  This weekend is one of a 9 part series.  After completion of the 9 weekends you will receive a certificate that allows you to become a Registered Yoga Teacher (RYT) with the Yoga Alliance if you choose. Completion of the series can take as little as 1 year or as long as you like. For more information or to register contact Janine.
Sun. 10/16 @ 1pm
Meditation
With Jenn Fast
Goodwill Donation
This class will include a short explanation of the root chakra and a guided meditation. Essential oils and a crystal singing bowl will add to your meditative experience.  Come experience grounding, security and settling into your body.
NEW CLASS!
Thurdays in Oct. @ 7 pm
Candlelight Flow
Please join Mindy for our NEW class and time, Candlelight flow is a moderate level 60 minute vinyasa class and a great way to end your day!