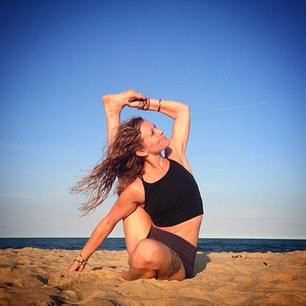 Special Guest Instructor
Tina Bock
July 16 &17
2 hour workshops
Tina Bock is a registered yoga instructor, born and raised in New Jersey. She has taught and studied yoga in the US, Canada, Middle East, and India. She is currently living in Abu Dhabi, United Arab Emirates, teaching classes and workshops there and in Dubai. Tina is the co-founder of Bodhi Yoga Academy, an international teacher training program. Find her photos & videos on Instagram and Facebook .
Register for both at a special price $80 – Register Now Both 
Thurs. July 16 @ 7-9 pm $45 Register Now Thurs. 
This Ashtanga workshop is suitable for all levels. It will include challenging postures, back bending, arm balancing and inversions, while giving modifications for all.
Fri. July 17 @ 9-11 am $45 Register Now Fri. 
Scared about the thought of going upside down or balancing on your hands. Join Tina in this workshop designed to make flight fun and accessible for everyone!
For more info text Mindy 712.898.1426 or Email yogaokoboji@hotmail.com 

This is a very special opportunity for our community! See you on the mat!